real thinking ™
2 Day Extension Workshop
pre-requisite
2–day foundation workshop: where thinking and learning meet™
overview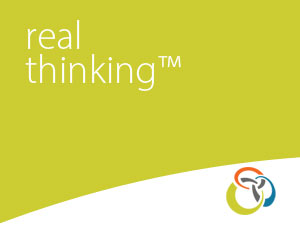 Many of our schools are now valuing the importance of teaching their students how to think and how to learn. Thinking skills and thinking tools are no longer 'new.' The explicit address of thinking has become an instructional approach, advocated at the Department level, and realized in many classrooms, internationally. Recognizing and celebrating this advance in pedagogy…the infusion of thinking skills through tools is merely a part of a much bigger whole.
Thinking does not occur in a vacuum…Thinking and learning are inextricably linked. If learners are to engage in skillful learning, they must become skillful thinkers! When students learn HOW to learn; when they are provided with a wide repertoire of tools to think in a diversity of ways; when they are taught the ways in which thinking tools are layered and framed to ensure rigor and deep thinking, WITHIN the learning process, they become enabled and empowered to stretch their own thinking and learning.
This intensive, hands-on workshop will enable and empower participants to deepen their knowledge and understanding of the tools, strategies and processes associated with a real thinking and real learning pedagogical practice. The experiential component of this workshop will result in the heightened skill development needed to turn vision to reality!
outcomes
examine and evaluate your current understanding and use of thinking tools and strategies
further develop your understanding and ability to infuse the thinkchart™organiser, immersion and learning centres, and the thinkitgreat™,authorthink™ and techthink™ micro learning processes seamlessly into your classroom practice
develop your knowledge and understanding of organiser 'framing' and 'sequencing' (organiser literacy)
examine and evaluate your current understanding and use of the think!nQ™ inquiry process
further develop your understanding of think!nQ™ inquiry and your ability to design and implement the think!nQ™ inquiry process comprehensively
assess your level of 'thinking skills' and 'learning process' infusion and set goals for more authentic integration of both into classroom practice
further develop your ability to engage your learners in the responsible design and implementation of their own learning opportunities using the 'petite!nQuiry™'
apply newly acquired knowledge of the immersion stage of the learning process to design rigorous experiences for your learners that underpin both their thinkitgreat™ and techthink™/authorthink™ experiences.