real learning ™
2 Day Workshop
pre-requisites
2–day foundation workshop: Where Thinking and Meet™
2–day extension workshop: real thinking™
2–day workshop: processes for learning™
2–day criteria workshop: real assessment™ is recommended
overview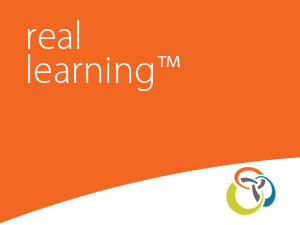 Inquiry learning is no longer 'new.'Many curriculum documents now mandate an 'inquiry approach' to teaching and learning; many schools plan 'units of inquiry'; they provide 'inquiry time'; and some even follow an inquiry model. Recognizing this advance in pedagogy, it's bigger than inquiry – it's about teaching learners how to learn and how to think because inquiry is merely a part of a much bigger whole!
With privilege comes responsibility and with responsibility comes privilege! Enabling learners to successfully engage in independent, self-regulated learning requires much more than repeated opportunity, inquiry time, and an inquiry model. If learners are to truly 'own' their learning, it is critical that they develop a comprehensive 360º understanding of 'how to learn' and 'how to think' for themselves.
Great learning requires great thinking. In the real world learners must think in order to engage in substantive learning. What if learners knew how to learn? What if learners could identify their learning job at any point throughout the learning process? What if learners could identify the thinking required at any point throughout their learning journey? What if learners could self-select specific thinking tools that would deliberately and strategically direct their thinking, so that they could engage in skillful thinking and therefore substantive learning?
This workshop focuses on further developing the participants' ability to explicitly teach students how to learn using the thinkInQ™ (thinking and inquiry) real learning framework; and how to think using the thinkbox™real thinking framework. The think!nQ™ inquiry learning framework identifies the stages of the natural learning process through an annotated pictorial model. As learners navigate this model, the stages of the learning process become explicit and learners begin to learn how to learn. The thinkbox™ thinking framework identifies a wide repertoire of thinking tools and strategies which learners can deliberately select to direct their thinking as they progress through the learning process.
As the 'thinkbox™' thinking framework and the 'think!nQ™' learning frameworks interface, students are enabled and empowered to engage in real thinking and real learning that they understand and own! Learning to learn and learning to think – it's bigger than inquiry!
outcomes
further develop your knowledge and understanding of the stages associated with the think!nQ™ real learning process
further develop your knowledge and understanding of the clark 9 step planning process for curriculum design and implementation
develop your ability to 'unpack' curriculum for the specific schema associated with the outcomes; and the depth and breadth of knowledge and understanding applicable to your specific learners
develop your ability to identify authentic, developmentally appropriate 'so what' opportunities that relate directly to mandated curriculum
explore a variety of implementation options that relate to your desired level of curricular integration, the developmental level of your learners, and time constraints
further develop your ability to frame and sequence thinking tools for depth and breadth of knowledge and understanding so that differentiation is achieved through tools not activities
further develop your ability to plan strategic immersion opportunities that check prerequisite schema, set foundational schema, and engage learners both cognitively and emotionally
develop your ability to transition the planning and implementation of 'petite!nQuiries™' from your realm of control to that of your learners
further develop your ability to plan, design, implement, assess and evaluate authentic, issue-based units of study that link directly to your curriculum documents